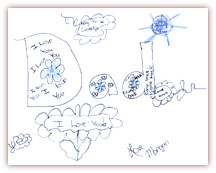 Dear John,
You are the most amazing man I have ever met. Thank you for being there on windy nights. You invited us up for hot chocolate and muffins. We have hope of seeing you again when we get to heaven too. It seems as though your time on earth (at the barn) was too short. Morgan and Sarah are very sad but they know that everyone will be together soon.
Love Gracie W.
Dear John,
We miss you and hope to see you later in heaven. We love you so much. Morgan and Sarah love you every much. And Yong misses you very much too. When I first met you I was very shy, but you opened up to me and you became one of my best friends. You ended up to be the most amazing man I've ever seen and met. We are sad but we know you are looking over us right now.
Love Natalie.
---
Bruce Covill Remarks at John B. Evans Memorial Service
By way of background, my introduction to John B. Evans came one Thursday in November 1985 when I returned to my office at a publishing company in Washington, D.C., to find a message asking me to call "John Evans" asap at a New York City phone number. I'd never heard of "John Evans," but when I returned the call, a Welsh voice told me very simply: "I head Murdoch Magazines; Mr. Murdoch just bought all of Bill Ziff's travel publications; there are some things I want to do with these products; you are the person I want to help me do them, and I know your wife does not want to leave Washington."
Two weeks later I moved to New York and began a four-year odyssey with John that had me traveling the world with John, helping him to build the electronic products that gave John - and the entire Murdoch organization - a start in what's variously known as "electronic publishing," "new media" and, today, "eCommerce." During our four years of working very closely together, John was my Mentor - occasionally my Tormentor -- and always my close friend.
Of the thousands of stories I can recall about John, the one I would like to share with you has to do with a weekend that I and my very young sons spent on John's sailboat, Victoria, at Martha's Vineyard. When John called me very early one Friday morning and told me to "come on up to the Vineyard for the weekend," I replied that I really couldn't because, as John knew, my weekends were devoted to my 3- and 5-year-old sons. When John replied that I should "bring them along," I was honestly floored. John made no secret in those days that he wasn't entirely comfortable with the "younger set," and so far as I knew, no one under voting age had ever set foot on his beloved Victoria. But we caught the last ferry to the Vineyard and we spent an absolutely wonderful weekend on the Vineyard and aboard the Victoria.
One of the many highlights of the weekend for me involved the only time that I ever saw John truly bewildered and at a loss for words. At first during our weekend, John nervously watched my sons trying hard to be on their best behavior. But fairly soon, reflecting the John that we all knew and loved, he dived right in with them and everyone had a ball.
After we'd all been together for a day or so, John took me aside with a very serious tone and a completely blank look on his face. My young sons had only recently moved from Virginia to New Jersey. In Virginia, the custom was that kids called adults by their last names - Mr. Evans, Mrs. Smith, etc. But in New Jersey, the custom was for kids to call adults by their first names. Causing further confusion for my sons was the fact that they hadn't truly mastered the "gender thing" (i.e. who was a "Mr." and who was a "Mrs.). John's question to me was, "Your sons are wonderful and I'm having a lovely time with them, but WHO IS THIS 'MRS. JOHNSON' THEY KEEP MENTIONING??" You see: Mr. Evans? - John? - Mr. or Mrs.? They finally had gone on overload and his name came out Mrs. Johnson.
Well, we all survived that weekend and I'm happy to say that John and I stayed in touch a bit after I was sold along with the business division to Reed in 1989. We talked or emailed every year or two. I hadn't talked with John for a couple of years when I called him to say I'd be in New York on business. To my surprise, we had an entirely new conversation, not about sailing or cars or business, but about the two new "little women" in John's life. He couldn't wait to bring them to brunch the next morning so I could meet them. Unfortunately, one got sick overnight and until today I never did get to meet Morgan and Sarah. But ladies, I can tell you as someone who knew John very well, that of all the myriad of varies things he had done and seen in his life, nothing was as important to him as you.
---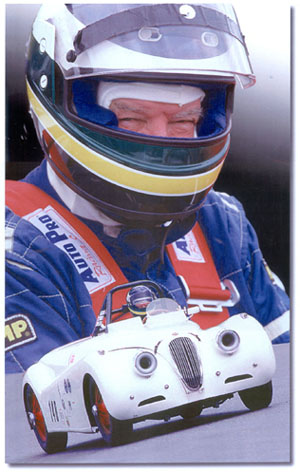 VSCCA Mourns the Death of John B. Evans
30 March, 2004
We have only heard today of the death of long time and stalwart member, John B. Evans. On Sunday the 28th of March, John died in his sleep after a period of deteriorating health. He was most active on track in his Lotus VII, though in his long career he drove a number of interesting and usually British cars and he always drove them well.
A private memorial service in New Jersey is planned for the near term. It will be followed by a celebration of his life which will take place in New York City at a later date. The club is diminished in its collective enthusiasm with the loss of this contributor to our institutional joie de vivre and we extend our heartfelt sympathy to his many friends and to his family.
jpd, editor, for the President and the Board
---
September8th.com
Reliving Motorsports' Past
Vintage Racing Mourns the Loss of John B. Evans
We were saddened to hear the news of the passing of VSCCA's (Vintage Sports Car Club of America) member, John B. Evans. Like everyone else who enjoyed watching John tame his "Cat" on the racetrack, we wish his family and friends comfort at this difficult time.
"John was a shining star! He had "style", epitomized by his race and his street cars, his driving and his character. He was one of the first people I ever met in vintage racing and he was a marvelous man."
Peter L. Krause
---
Thoughts of John from Robert Clark
How sad to hear of John's passing. I learned through an old friend last week and read the obit in The Times. I worked with and for John at The Voice from 1980-'85. He loomed large in my life and stood just a few feet from me when I got married in my in-laws backyard on Long Island. I recall pestering him to close his jacket for the ceremony, which he flatly refused to do. I thought it odd but then I figured John had a reason for everything. I found out later that day that he was wearing a recording device on his belt to capture the moment. Always thinking and always creative.
I was there when he cracked a bottle of Perrier against the hull of his beautiful new sailboat in the yards at City Island to christen it most properly. I remember when he first became Publisher and moving two cats in to his office. His mastery of the classified system and subsequent embrace of what we call today "the internet" was unparallel by any working publishing exec at the time. Whenever I felt I was getting rusty or stale in my thinking I would march John over to Japonica on University Place for his favorite Japanese lunch (something only he knew the name of that looked like a pocket handkerchief) just to get an infusion of ideas. He never went an hour without a creative thought.
After The Voice was sold, John stayed with the Murdoch folks, I stayed with The Voice. I had separation anxiety for close to a year. Much time had passed and I had little contact with him through the nineties until I found myself out of work. I called John and he immediately picked up the phone and said, "so Bobby, what have you been up to?" He made several calls on my behalf. You just don't forget stuff like that.
I understand there is a gathering on the 24th. I regret that I will be out of town and unable to be there. It's a previous commitment involving work and I just know John would understand. He would be pushing me to take care of what I had to do.
I have not seen or spoken with John in quite some time. My wife and I watched his media rise as spectators and we were never in doubt of his energy and brilliance. We shall miss him. Please convey our condolences and appreciation of his life and the uniqueness that was John to his family and friends.
---
From Catherine Ettlinger
A former Editor of ELLE
(who unfortunately cannot be with us today from LA)
I know it will be a wonderful service celebrating a wonderful life. I can start laughing when I think of the stories that will be told. I can start crying when I think of how much more trouble John could have gotten into, and how much more fun he could have had.
John always told me he thought courage and imagination were two of the most important qualities to have. He had more of each than anyone I've ever known.
---
A Memory from Karen Anderegg
A former Editor from ELLE
(who unfortunately cannot be with us today from Seattle)
Thank you, dear John,
For liking most women, loving a few, encouraging all of us -
and giving us a chance to prove ourselves.
You listened, asked, joked, cajoled, believed, trusted and promoted.
We all loved you. And miss your smile, your humor, your loyalty to
womankind. More guys like you in the world might drive us nuts, but it
would make for better businesswomen and better people.
RIP, John, Rock-on In Paradise!
Love Karen
---
Read More Letters/Notes